Disney World is loads of fun no matter whether you're traveling with friends, family, or just by yourself. While you can "just show up," there's a lot for you to learn if you've never been to the Florida resort before. With so many things to see and do, you're going to want to keep some tips and tricks in your back pocket.
Whether you're a first-time Disney explorer or a regular looking to refresh on park tactics, this one is for you. Here are 10 things you need to know before you take a trip to the happiest place on earth.
RELATED: 10 Weird Rules From Disney Parks You Never Knew Existed
11

FastPass+ Saves You Time
Disney has a system called FastPass+ that will let you skip the lines for three rides at a single park on the day of your visit. If you are staying at a Disney Resort, you can book these passes online 60 days in advance, and if not, you can make your selections 30 days in advance.
You'll be given a specific time slot for your party to head on your selected attractions, and after you use up all your passes, you can book more for any park you'd like using the My Disney Experience App. Speaking of that…
10

The My Disney Experience App Will Transform Your Trip
9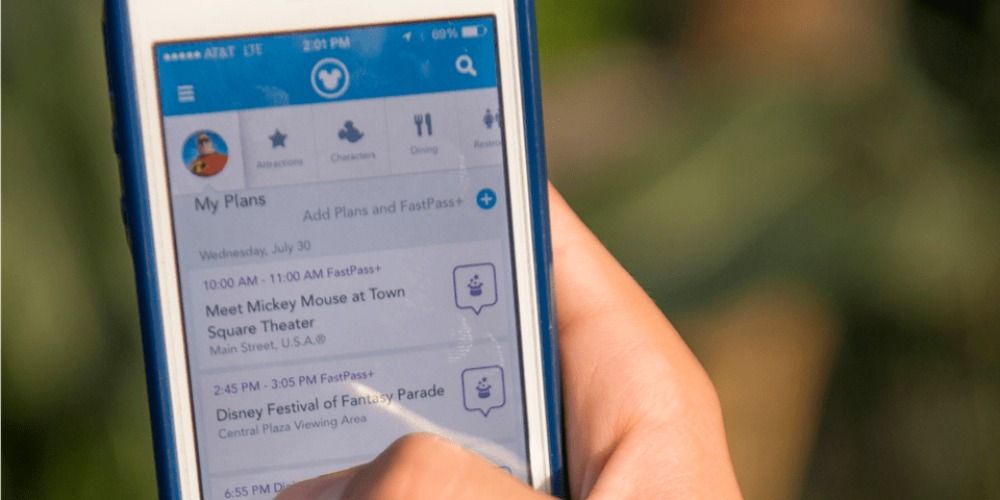 Disney wanted park-goers to stop stressing and start having more fun, and so their biggest dreamers created an app that will help you manage your day at the parks.
RELATED: Disney Parks: 10 Things You Didn't Know About Main Street U.S.A
Here, you can get walking directions, check wait times, manage your FastPass+ selections, make dinner reservations, mobile order food, track down select merchandise, locate characters, view your photos, and more. Yes, it basically does everything. Learn to use it before your visit, and you'll be glad you did.
8

Plans Are Important
While the MyDisney Experience App helps keep your day organized, this doesn't mean you shouldn't do some planning beforehand. The parks are expansive, and it's best to take a look at the showtimes, special events, and attractions prior to your arrival. There are also some rides that are less crowded during certain times of the day, so take note!
Disney's huge, so it's good to cover all the attractions in a certain corner of the park before moving on. A little planning goes a long way.
7

Disney Transportation Is Everywhere
While parking at Disney is an option, it can get expensive. If you don't have an annual pass or are staying at a Disney resort, parking a car at a theme park will cost you $25 per day.
Lucky for you, Disney has lots of other options, and there is no need to rent a car if you're flying to Orlando. First off, Disney has free buses that run between the parks, the resorts, and the Disney Springs entertainment complex. News flash: It's also free to park at Disney Springs, so you can shuttle into the parks from here.
For an additional charge, you can instead take Disney's Minnie Van Service to your next destination. It's essentially a Disney-themed Uber or Lyft.
6

The Date Of Your Trip Is Important
The time of year you head to Disney will drastically affect your vacation.
First off, during the summer and early fall, Florida is known to be really humid, get random thunderstorms, and receive the occasional hurricane. This doesn't mean you shouldn't visit during this time, but be prepared if you do.
The other thing to note is that Disney has drastically different crowd levels throughout the year. Summers and holidays are far busier than months like January and September. However, it is worth noting that there are sometimes more ride maintenance closures during less crowded months. You can check crowd calendars and maintenance schedules online.
Finally, Disney has many festivals and special events. You might want to line up your trip with one!
5

There Is A Lot To Do Outside The Parks
Many first-timers don't realize that Disney isn't just the Magic Kingdom. It's four theme parks, two water parks, two mini-golf courses, a shopping and entertainment center, a boardwalk, campgrounds, and tons of resorts.
RELATED: 10 Rare Disney Characters & Mascots You Didn't Know You Could Meet At Disney Parks
Don't think that taking a day off to explore it all is a bad idea. Resort hopping is popular, and with the transportation options already listed in combination with free boat and monorail rides, you should definitely check out the shops, restaurants, and amenities scattered throughout the complex.
4

Hotel And Dining Reservations Should Be Made In Advance
Disney's most popular restaurants fill up fast, and no, we're not exaggerating when we say you should consider booking a meal at one of Disney's top-notch restaurants 180 days in advance. While the quick-service dining options are tasty, the high-quality sit-down experiences that Disney offers are too good to pass up. There is a reason they fill up so fast.
The same goes for the hotels. You can book resorts over a year in advance, and boy, are there a lot of options to pick from. While some people swear by Disney Resorts (we can't deny that they're incredible) others choose to stay at cheaper off-property vacation rentals or hotels. Whatever you do, don't wait to decide.
3

Ride Switch Or Ride Alone To Save Time
Select rides at Disney World including Test Track, Rock 'n' Roller Coaster, and Expedition Everest have single rider lines that are definitely worth using. These attractions are known to have long waits, and while your party will be split up, hopping in the single rider line tends to make your wait time significantly faster, which means you can see more of the park.
Disney also offers an option called Rider Switch on select attractions. If not everyone in your party wants to go on a certain ride or can't due to height restrictions, one adult can check in with a cast member and wait with the non-riding party member while the rest of the group goes on the attraction. After they get off, the person who is waiting can skip the line and ride it themselves.
2

There Are Free Things And Free-To-Bring Things
While Disney might look like one giant money trap from the outside, there are actually several things you can get for free on the property. One of the most important things to nab in the hot Florida weather is the free water available at most quick-service restaurants. If you're celebrating something like your first visit or a birthday, you can get free Disney-themed buttons. You can even get free sodas from around the world at Club Cool in Epcot (though this is set to close on Sept. 8 during renovations and is yet to receive a re-opening date).
While there is plenty to get in the park, there are also things you can bring yourself. Disney doesn't sell gum on the property to keep its parks clean, so you'll have to bring your own stash. You are also free to bring your own food into the park if you'd rather skip out on the high prices.
1

You Won't Be Able To See It All
Don't stress yourself out. There is a lot of Disney, and first-time visitors are usually shocked by how much time it takes to get through. Rather than cramming your schedule, slow things down and accept that it's going to take more than one trip to get through it all.
Even if you get at a park when it opens and stay through close, you won't be able to ride every ride, see every show, and dine at all your top-choice restaurants. Pick your priorities, and when you get home, plan your next trip.
What? Is it ever too early to schedule another Disney adventure? We think not.
NEXT: 10 Best Resorts to Stay When Visiting Walt Disney World, Ranked