If you're planning a trip to Greece, more likely than not, Santorini is on your itinerary. It's the number one honeymoon spot in Greece, known to have one of the best sunsets in the world, and is the most visited in general out of all of the Greek Isles. With such a popular reputation, one thing is guaranteed: Santorini is one of the most expensive Greek isles. Though Greece is typically more affordable than other European hotspots, Santorini is the exception due to the sheer amount of public interest. However, a trip to this magical island does not have to break the bank. Here are ten tips for cutting costs on a visit to Santorini.
10

Skip Oía And Stay In Perissa Beach

Though most travelers head to Santorini to experience the white houses of Oía, it's still possible to see them without staying in the area. Oía is the most sought-out area of Santorini, making it the most expensive. Cut your costs by staying on the other end of the island at picturesque Perissa Beach. It's a volcanic black sand beach lined with cafes, eateries, bars, and dive shops. It's a much quieter area of Santorini. Oía is jam-packed with tourists, especially in high season, and though the white houses paired against the deep blue Greek waters are absolutely worth a visit, it's not necessary to stay over there, especially if you're trying to see Santorini on a budget. In Perissa Beach, you can find hotels as low as $36/night at The Best.
9

Rely On The Bus

Santorini is not particularly difficult to travel around. There are taxis, car rentals, quad rentals, and public transportation. If you're trying to visit Santorini on a tight budget, your cheapest transportation option by far is going to be taking the local bus. There are a few bus lines that will take you anywhere you need to go around the island. If you decide to stay in Perissa Beach, as mentioned in step one, you can take two separate buses (there's a transfer about halfway through) to both Fira and Oía in about 45 minutes. The cost of a car rental starts at $61/day, and the cost of the bus is anywhere from $1.80-$2.50. Though the bus won't offer you as much flexibility in your exploring, it's light-years cheaper than a car. And, if for some reason, you need to take just one taxi during your time there, it's still much cheaper than renting a vehicle.

RELATED: Athens to Santorini, 10 Things To See Along The Way
8

Buy A Greek Breakfast And Get A Beach Chair All Day

One of the best perks of staying in Perissa is the endless breakfast options lined along the beach. Pop into any of them and buy a Greek breakfast, typically consisting of eggs, toast, yogurt, fresh tomatoes and cucumbers, and feta. Prices vary, but for an average of a 7-euro Greek breakfast (equivalent to around $7), you will be granted access to the restaurant's beach with your own private beach chair. Because you purchased breakfast, you will be able to lounge on a beach chair as long as your heart desires for that given day. Who needs private beaches when you get your own lounge chair in exchange for a delicious hearty meal? If it sounds like it's a steal, well, it's because it basically is.
7

Opt For A Hostel

Are you really trying to see how far you can stretch your dollar? How do you feel about sharing a room with 10-12 strangers? If this is a situation you're up to, skip out on a hotel or Airbnb and opt to stay in a hostel. Hostels in Santorini range from $20-35/night in mixed dorm rooms. Hostels are a fun, social experience where you're likely to meet all different types of people who are traveling on a budget. Some are college students, some are on a gap year, some are even backpacking around the globe after quitting their jobs, and some are working remotely as they travel the world. There's no shortage of cool people who live radical nomadic lives, and a guaranteed place to meet them is at a hostel.

RELATED: Visiting Santorini? These Are The Dishes You Should Be Ordering
6

Use Points To Get There

Racking up travel points is a great hack not just for Santorini but for everywhere. Some travel credit cards have better perks than others. One of the best cards out there is the Chase Sapphire Reserve, where with every $1 spent, you receive a point; for every dollar spent on travel and dining, you receive 3 points; and for every dollar spent on flights, you receive 5 points. Once you have enough points in your Chase portal, you can either book directly through the portal or you can transfer to airline and hotel loyalty programs of your choice. If credit cards and potentially high-interest rates are less appealing to you, it's possible to start collecting points without a credit card. Signing up for any airline loyalty program is completely free. Create an account with Delta SkyMiles, United MileagePlus, or even JetBlue True Blue, and you can start accruing miles from flights booked through any of the above-mentioned airlines, as well as any of their partners. These are only a few of the airline loyalty programs, but just about every single airline has one. Why pay full price for flights if you can potentially get them for free?
5

Visit During Low Season
Summertime in Santorini might sound romantic and dreamy, but only if your idea of romantic and dreamy includes herds of other tourists and inflated prices. The most popular times to visit Santorini are from June to September due to the nice weather, and July and August generally being busier travel months in general. If you want to enjoy Santorini without the crowds and without the inflated prices of Greek wine and gyros, try a visit in April or October. You'll still get moderate weather, but you won't be sharing the experience with hundreds, if not thousands, of other tourists. Some restaurants do close-up shops in October, but these restaurants are primarily geared toward tourists since the high tourism season is at its end. Therefore, you'll never have a shortage of finding good local eats, and if it's a spot the locals go to, you're guaranteed to get a better price. Even better, flight prices drop significantly during the low season. If you don't care too much about scoring nice weather and are more interested in taking in the local atmosphere instead, you can try a visit to Santorini in January or February. The weather averages 58 degrees F, so don't pack a swimsuit, but you will certainly have the majority of a very popular island somewhat to yourself.
4

Go On A Free Hike

A beautiful thing about the outdoors? Nature is completely free. Santorini has a rugged, hilly landscape with no shortage of hiking options. The most popular hike is from Fira to Oía, a 3.5-mile trek that will lead you from the capital of the island to the picturesque white houses of Oía. Pro-tip: a lot of locals will offer you donkeys to ride, don't do it! Donkeys are not meant to carry humans, and it's animal cruelty to participate. The Greek donkeys have been found to have spinal injuries due to carrying tourists. Another popular free hike is the volcanic hike of Nea Kameni. The Santorini caldera, or the center of the volcano, can be found at the end of the Nea Kameni hike. It is a fairly easy hike, with a few slippery volcanic rocks here and there, and will reward you with a view of 300 feet above the sea. There are several other hiking options in Santorini, but the good news is that every single one is completely free. Just remember to bring a lot of water, especially if visiting during the summer, and don't forget your good walking shoes.
3

Book This $25 Boat Tour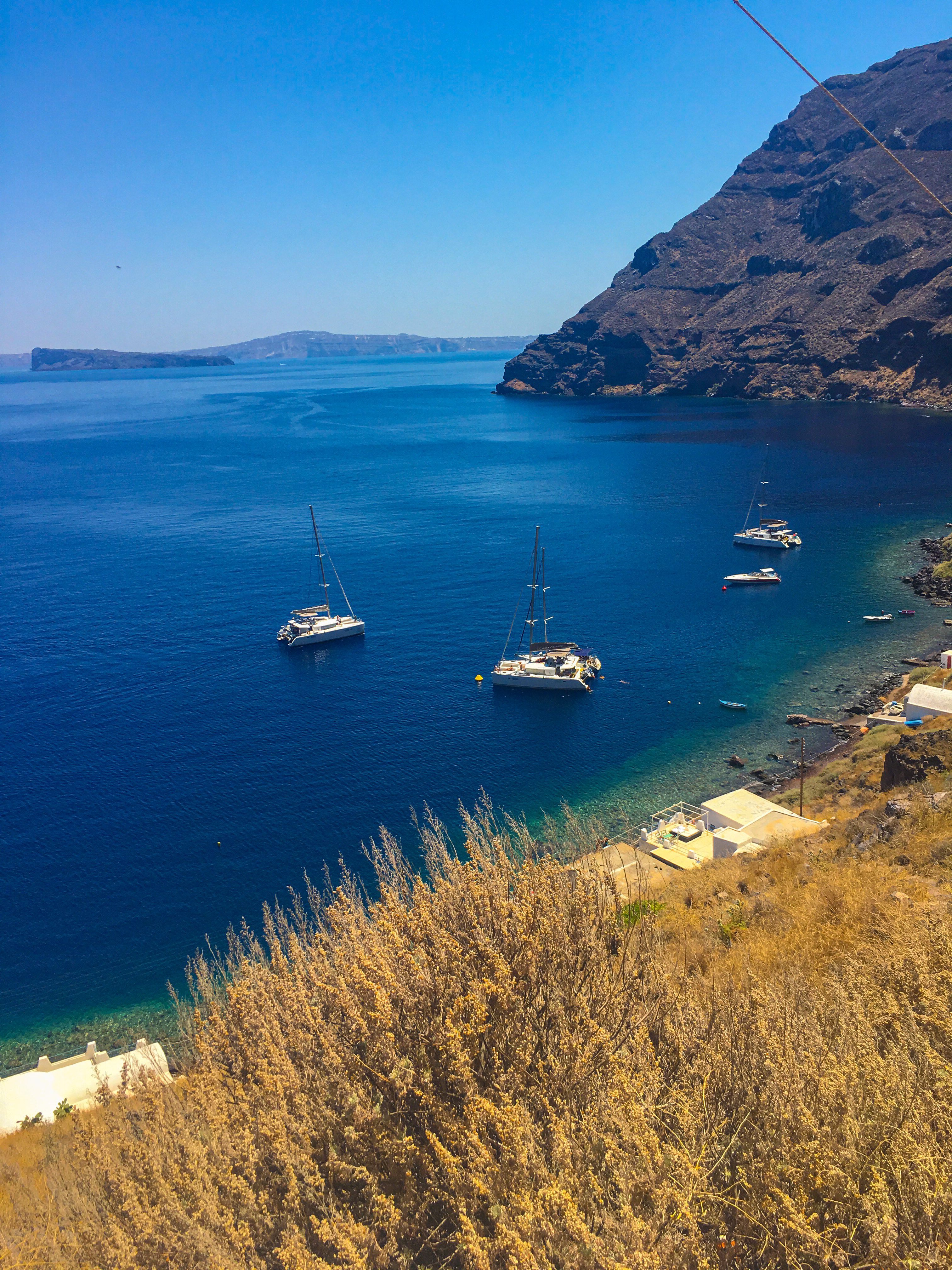 Looking to get out on the beautiful Aegean Sea, but not sure how to do it? Viator offers a $25 boat tour that will take you to some Greek natural hot springs as well as to the main volcano on the island. The best part is you'll get to take a boat to both! Take a swim in the Santorini sulfuric hot springs, but be wary. The springs do contain different levels of sulfuric acid. Your guide will explain where not to go, and you'll be able to tell as you swim and feel the water starting to get warmer. Do not wear a white swimsuit to the springs, as it will get stained orange due to the chemical reaction of the sulfuric acid. You'll also arrive at the port of Erinia, the small bay of an active volcano. There, you'll have an hour and 15 minutes to walk through the volcano and see some rocks still smoking. It makes for picturesque views and a nice workout. On board, beer and wine are available for purchase which is not included in the ticket price.
2

Save On Dining And Try One Of These Cheap Eats

A surefire way to save when traveling is to cut back on dining expenses. Dining and drinks often eat the most into travel budgets. Who doesn't want to eat out for every single meal when abroad? One way to cut costs is to try to find accommodation that offers at least one free meal, i.e., breakfast. The inclusion of even free coffee, pastries, and fruit is quite helpful in saving coins. Check with your hostel, hotel, or Airbnb to see if anything is included. Free meals included aside, Santorini has a lot of options for cheap eateries. Try Falafeland, a quick on-the-go sandwich joint located in the heart of Fira, Santorini's expensive capital. Vegans and vegetarians have a plethora of options here, as well as our carnivorous travelers. What visit to Greece is complete without a proper Greek gyro? Try PitoGyros Traditional Grill House in Oía is the perfect treat after a long hike from Fira to Oía. If you want to stretch your dollar even further, head to a grocery store, and plan a picnic. Greek grocers will have no shortage of fresh tomatoes, cucumbers, blocks of tangy feta cheese, olives vacuum-packed with different herbs and flavors (great for a gift to take home), fresh olive oil, and more. Going to grocery stores and markets abroad is a great way to not only save money but to get a closer insight into local life. You can see what the locals eat, try new snacks, and save a lot of money doing so.
1

Go Here For Drinks

Greece has some of the best wines in the world, and you won't want to miss out if you're planning a vacation/holiday there. And what visit to Greece without a proper pint of Mythos beer paired with a bit of ouzo? Head to Two Brothers Bar, a fun spot to meet locals and tourists alike, serving 3-euro pints (about 3 USD), a rarity in Santorini. For a proper pub, head to Liverbird, offering affordable drinks and a decently priced English breakfast. If sitting in a bar is not your thing, head to one of Santorini's many wineries. Santos Wines allows for visitors without a tour and will often offer a free tasting. If you're interested in learning more about Greek wine, book a tour, drink delicious local vino, and meet some friends along the way.