London and Paris might steal the European spotlight when it comes to attracting tourist attention, and frankly, the Czech capital isn't fazed by that in the slightest. The historical city of Prague is one the most underrated gems across the continent, quietly happy to let the behemoth names steal the tourist dollars and tarnish their own reputations while this stunning, culture-rich locale continues to thrive as it flies under the radar.
RELATED: 10 European Cities That Are Surprisingly Affordable To Visit
With centuries-old cobblestoned streets, stunning castles, lush gardens, and a food and drink scene that would rival any city in the region, Prague is rapidly rising the ranks. While it might be tough to explore it all in just a weekend, there are a handful of spots that simply can't be overlooked.
11

Charles Bridge
When something's heavily trafficked by tourists, it's usually for a good reason. Kicking off our journey around this stunning locale is a stroll around one of the icons of the city, the Charles Bridge. As both a means of crossing the Prague's Vltava (the longest river within the Czech Republic) as well as a hub of entertainment - think artists, musicians, various vendors, and dancers - the Charles Bridge is always putting on a show for the locals and tourists who venture across it.
Aside from the ambiance, the most impressive feature is without a doubt the fact that it has been standing since the beginning of the 15th century.
10

Hradcany
We've ticked off the big-ticket item (Charles Bridge) and now that we're on the other side of the river, it's time for a leisurely stroll through Hradcany, better known to us foreigners as the illustrious Castle District. As you could expect, the area is dotted with centuries-old buildings, cobblestoned streets, and, of course, castles to boot.
RELATED: 10 Things To Do In Copenhagen If You're On A Budget
Prague certainly isn't lacking in historical architecture, and while you're sure to come across plenty during your weekend visit, a wander through the picturesque Hradcany simply can't be left off the list of essential activities.
9

Prague Castle
Admittedly, the entire Hradcany area in and of itself is a worthy visit for anyone traveling through this stunning, underrated city. However, its center of attention - the Prague Castle - deserves a mention of its own. It might churn out exquisite views of the Vltava River below but the castle's true claim to fame is its title as the largest ancient castle in the world.
RELATED: 5 European Cities Where You'll Be Broke (& 5 Where Your Dollar Stretches)
Perched atop the hill, its undisputed highlight is the St. Vitus Cathedral, a twin-spire church featuring skyscraping Gothic towers. Make sure that the camera batteries are fully charged!
8

Letna Park
As long as we're on the western side of the Vltava river, let's make our way a little further north in search of a much-deserved breath of fresh air. The next stop is none other than outdoor bliss that Letna Park - a welcomed, green space that offers sublime views of Prague's center, as well as ample opportunities for hiking, biking, or just hanging out with a basketful of local delicacies and a cold, Czech beer (or five).
There are a number of excellent elevated spots to admire the historic cityscape, potentially none more impressive, however, than at Letna Park.
7

Old Town
When we're looking down on the glistening river, historic bridge and ancient buildings below, it doesn't take too long before our eye tracks toward our next essential stop - Prague's famous Old Town. This is without a doubt one of the more tourist-orientated areas of the city, but don't worry, that doesn't mean it's tacky or overrated by any means.
Old Town is overflowing with aesthetic charm, brilliant facades that characterize the city's rich history, and a number of worthy attractions. When walking around, make sure to check out the Jewish Quarter and the Astronomical Clock inside the Old Town Hall Tower, which puts on a show every hour.
6

New Town
Don't let the name fool you - Prague's New Town is by no means 'new'. It's simply new by Prague standards, which, for the rest of the world, is still exceptionally old. The New Town area actually dates back centuries, all the way to the mid-1300s.
Only a short walk south from Old Town, New Town is headlined by Wenceslas Square, smack bang in the heart of the area. Here, inviting storefronts are abundant, cheap yet worthy restaurants line the streets, and there's always some sort of local entertainment on offer as well.
5

Petrin Tower and Petrin Hill
If the dose of nature at Letna Park wasn't enough, Petrin Hill is bound to do the trick. On the podium as the highest elevation of any of Prague's green spaces, Petřín Hill not only is one of the city's most beautiful outdoor areas, but it's also full of unique, immersive experiences. From an observatory to a mirror maze, and a convenient funicular to transport visitors to and from the lookout, Petrin Hill markets itself as a tourist paradise.
As a little bonus to the five gardens across the area, Petrin Hill is also the home of one of the city's most iconic landmarks, the Petřín Lookout Tower.
4

Wallenstein Garden
3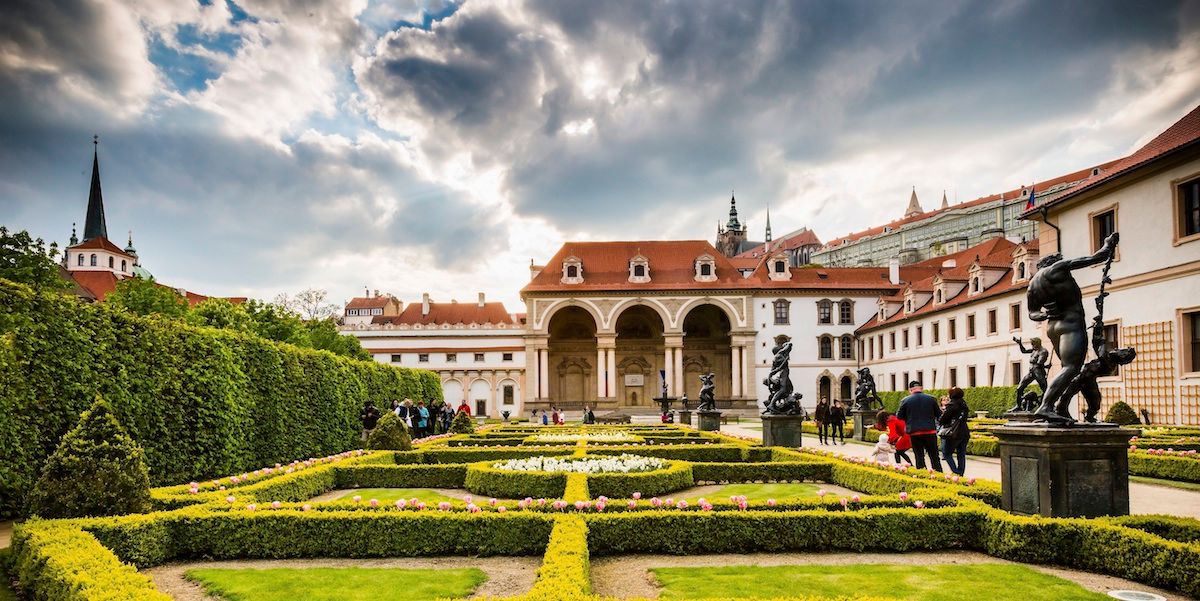 While we're on the topic of Prague's most impressive and picturesque green spaces, Wallenstein Gardens is happy to throw its hat in the ring. Known locally as Valdštejnská zahrada (now you understand why it's been anglicized), the Baroque masterpiece offers unbeatable views of the nearby Prague Castle - so conquering them both in the same afternoon is an easy feat.
Keep in mind that, unfortunately, the Wallenstein Garden closes its gates when the mercury starts to dip - between mid-October and early April. Don't worry though, there are still plentiful opportunities to soak in the A-grade vistas of the castle on one side and the river on the other.
2

Eat your heart out
It wouldn't be a successful trip to the Czech capital if we didn't take advantage of the endless, extraordinarily cheap opportunities to dine into some local delicacies. Smack bang in the middle of Old Town, a restaurant that calls itself Krčma is touted as one of Prague's true hidden treasures. It offers a cozy ambiance, complete with a range of locally-brewed pilsners, similar to a number of underground eateries across the city.
RELATED:10 Amazing Foods You Have To Try In Prague
Visitors have also raved about Café Savoy, on the opposite side of the river, while Mezi Srnky is known as a cheap spot to dine into some of Prague's most traditional dishes.
1

Tour a pilsner brewery
To cap off our short but sweet journey to the Czech capital, there's no better way to put a cherry on top of what's already been a stellar stopover than with a cold pint or two at the Pilsner Urquell Brewery in Plzeň. It's no secret that Czech beers, especially when brewed just around the corner, are a sight for sore eyes after a long day - and what better place to knock one down than at its origin?
While it might be outside of Prague's city limits, there are a number of guided tours that transport visitors on the hour's drive west. If you have an extra day (a long weekend perhaps), then don't miss this chance.
NEXT: 10 Things To Do Over A Weekend In Melbourne, Australia